Laboratorium voor Moleculaire en Cellulaire Technologie (Lab MCT)
Het LabMCT maakt deel uit van het brandwondencentrum van het militair hospitaal Koningin Astrid.
Het LabMCT omvat drie luiken: cel en weefselbanken (huid, keratinocyten, hartkleppen en arteriën), een 'Research and Development' luik en een kwaliteitsmanagement luik.
De huid- en keratinocytenbank verzekeren, op een ethisch en sociaal verantwoorde wijze, het wegnemen, bereiden, bewaren, vervoeren, invoeren, distribueren en afleveren van huid (Fig. 1a) en keratinocyten (Fig. 1b) van menselijke oorsprong met het oog op gebruik bij voornamelijk patiënten met brandwonden en chronische wonden of wetenschappelijk onderzoek. Beide banken voorzien in de behoefte van het brandwondencentrum en het centrum chronische wondzorg van het militair hospitaal en, indien gewenst en mogelijk, ook in deze van andere centra. De huid- en keratinocytenbanken zijn erkend door de minister bevoegd voor Volksgezondheid en zijn ISO-gecertifieerd (ISO9001). Medewerkers van het LabMCT zijn lid van nationale en internationale wetenschappelijke adviesorganen en werken actief mee aan het opstellen van kwaliteitsrichtlijnen (vb. euroGTP project van de Europese Commissie).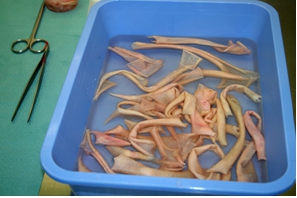 Fig. 1. a) Donor huid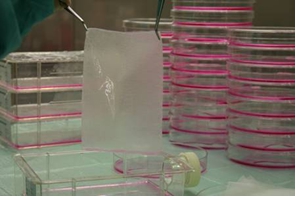 Fig. 1. b) een keratinocyten ent
Het wetenschappelijk onderzoek spitst zich toe op de ontwikkeling van huidsubstituten, het verbeteren van de kwaliteit en veiligheid van de huid- en keratinocyten enten, de moleculaire epidemiologie van antibiotica resistente bacteriën die infecties veroorzaken in brandwondenpatiënten en de bacteriofaagtherapie.
Vandaag worden we geconfronteerd met een toenemend aantal bacteriële infecties die virtueel onbehandelbaar zijn. Een (kwistig) voorschrijven van antibiotica ligt aan de basis van de opkomst van zogenaamde « superbugs » of « vleesetende bacteriën » die resistent zijn tegen de meeste antibiotica. Bacteriofagen of fagen zijn (een van) de meest voorkomende organismen op aarde en zijn de natuurlijke 'vijanden' van bacteriën. Ze zijn als het ware de virussen van de bacteriën en zijn in staat bacteriën te vernietigen ongeacht hun resistentie tegen antibiotica. Als zodanig kunnen ze een onafhankelijke behandeling van infecties betekenen, afgewisseld, of in combinatie, met antibiotica (Fig. 2 en 3). Ze vergroten dus de kans op een efficiënte behandeling van bacteriële infecties. Bacteriofagen werden intensief gebruikt bij de behandeling van een brede waaier aan infecties in Oost Europa en de staten van de voormalige USSR, waaronder Georgië. De Georgische hoofdstad Tbilisi herbergt sinds 1920 het voornaamste faagtherapie onderzoekscentrum, het George Eliava Instituut voor Bacteriofagen, Microbiologie en Virologie (EIBMV). Dit centrum leverde gerichte fagen aan het Rode Leger tijdens de Tweede Wereldoorlog en aan ontelbare hospitalen in de voormalige USSR. De opmars van de antibiotica, die een breder spectrum aan activiteit vertoonden en bovendien op een efficiëntere en economisch rendabelere manier op grote schaal geproduceerd konden worden, luidde het einde in van de faagtherapie in het Westen. Door de wereldwijde opkomst van multiresistente bacteriën kent de faagtherapie vandaag echter een heropleving in de westerse wereld.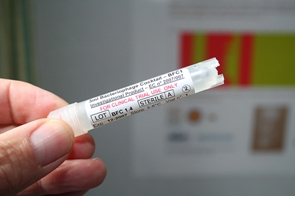 Fig. 2. Een flacon met bacteriofaagcocktail BFC 1.4.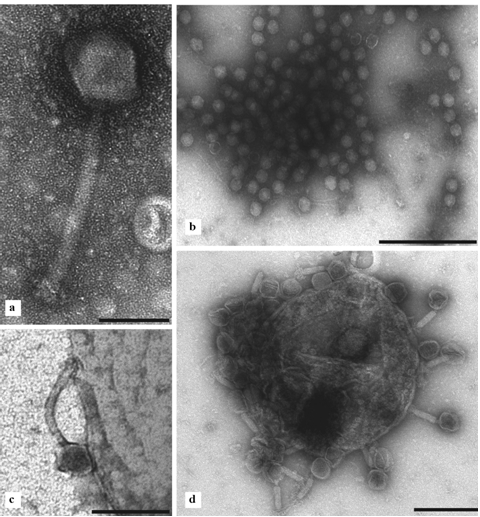 Fig. 3. De fagen in BFC 1.4 gezien door een transmissie electronenmicroscoop (Dr. Jan Mast). a) Myoviridae, b) Podoviridae, c) en d) Myoviridae verankerd aan de oppervlakte van bacteriën.
Het Lab MCT werkt nauw samen met gerenommeerde instellingen in binnen- en buitenland (vb. de KUL, RUG, UCL, VUB, het Eliava instituut en P.H.A.G.E.).